Ridge Presents- Ceramics show!
The Latest Edition: The Devil's Advocate
Dhristi Raval | May 29, 2020
Dhristi Raval | June 8, 2020
Hannah Zhang | January 7, 2019
Nabil Majumdar | December 18, 2018
Check out RIDGE POLITICAL REVIEW club's website!
Julia Scharr member of Ridge Productions
Art Show Displayed @ Coffeehouse
The Ridge Oak Tree: A Collection of Paintings by Various Ridge Artists
Ridge Art Show in the news!
Media Center October Display: Grab a spooky read today!
Ridge Summer Reading, You Choose?!
Dhristi Raval
April 7, 2020
Mr. Galesi is a beloved computer science and geometry teacher at Ridge High School. For many years, he has worked hard to provide a strong education to hundreds...
June 7, 2017
Would you like to Celebrate one of your teachers?
February 28, 2017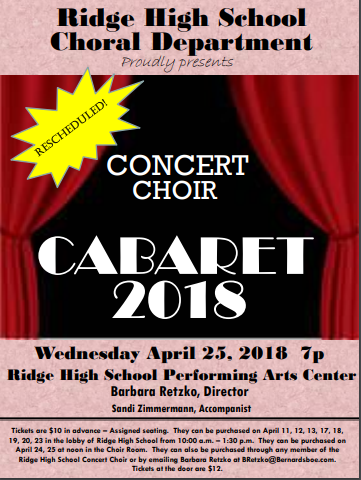 Barbara Retzko
March 1, 2017 • No Comments
CABARET 2017 will be presented on Wednesday March 15th at 7:00 p.m. in the RHS Performing Arts Center.   CABARET is an in-class project created by the members of the period...
Dhristi Raval
April 7, 2020
Dhristi Raval
April 7, 2020
Hannah Zhang
December 18, 2018
Ridge Art Show: Invaders: invasive plants and insects